Advanced Dental Technology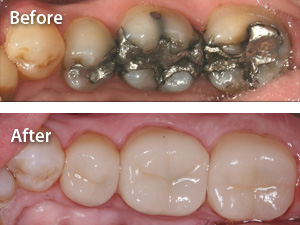 Plaza Dental Group is dedicated to providing you with the safest and most effective technology available. Our new CEREC machine provides patients with all-ceramic crowns in only one visit!
Our dentists will take a digital scan of your teeth, eliminating the need for impressions, and upload it to our state-of-the-art software. In 11 minutes your new crown will be milled right here in our office. You can even watch it happen!
Finally, the dentist will attach your new crown, and you are on your way! No temporary crown, no healing, no follow up appointment. Simple, safe, and lasting treatment!
Watch a short video HERE.
Schick 33® Ditigal X-Rays

We utilize Schick 33 x-rays sensors which have the greatest image qualtiy and clarity of any x-ray sensor available so that your dentist can identify weak spots and earlier so you can brush and floss more and avoid more fillings and crowns.
Don't forget about the advantage of 40-80% lower radiation.
Schick Intraoral Camera Technology
With the use of an intraoral cameras, our doctors at Plaza Dental Group can see every aspect of your teeth and mouth with incredible detail, and uncover cracked teeth, plaque deposits, cavities next to fillings, and excessive wear. When we can discover oral problems early on, your treatment is much less invasive and much less expensive.
Our intraoral camera is small: about the size of the mirror we use during your regular hygiene appointments. You probably wouldn't even notice we're using it, except that with the intraoral camera, you have the opportunity to see everything we see on a monitor.

This is a great tool to help you become more informed about your dental health, because it gives you a clear understanding of your teeth's condition, and allows you to make a more informed decision regarding your treatment options.
3D Digital Cone Beam Imaging
Possessed by only about 10% of dental offices, 3D Cone Beam imaging allows both you and your doctor at Plaza Dental Group to examine your teeth and jaws with incredible precision. This technology is extremely valuable during evaluation of dental problems and planning for modern dental treatments. You benefit by increased operative precision and lower post operative discomfort. Some common uses for 3D Cone Beam Images are:
Planning for dental implants
Evaluating wisdom teeth impactions
Identifying orthodontic problems and tooth impactions
Evaluating the TMJ jaw joint
Assessing the airway in obstructive sleep apnea
Confirming dental infections or cracked tooth roots
You can take advantage of a more complete dental treatment with 3D Digital Cone Beam imaging at Plaza Dental Group. Special features for patients include:
One quick 20-second scan gives ample diagnostic information
A safer diagnosis with 100-150 times less radiation of hospital scanners
Increased comfort in the open scanner design
Cost at a fraction of expensive hospital scanners
Our doctors can easily share and explain the data with patients, so you stay informed and are able to make educated decisions on the course of your treatment